YES, a post finally posted and written the day everything happened!
We left early in the morning. There was a lot of fog and it persisted until the sun was up for half an hour or so.
We were originally supposed to stop in Plainview (which our hotel also happens to be) for lunch, but stopped much earlier, in Amarillo, IIRC. My lunch was at Sonic, and the majority of the band members went there because there aren't any in Grand Forks and they love Sonic. I felt sorry for the people working there, because all of a sudden, out of nowhere, a huge group of people came to eat there, and the workers really had to scramble. A moment of hilarity was to be had when the waitress taking all of our orders asked if we were paying separately or all together; suddenly, people were asking our assistant band director if she stole our band director's credit card so we wouldn't have to pay. Amusingly enough, our band director actually came around about half an hour later and everyone started joking about how he was going to pay for all of our food.
I got a cheeseburger and fries, and then later on a Sonic Blast with Butterfinger (to make up for the lack of Butterfinger shakes at the Black Bear Diner Mom and I went to before I left for college).
We were back on the road again afterwards. About half an hour in, I saw this rather bizarre sight: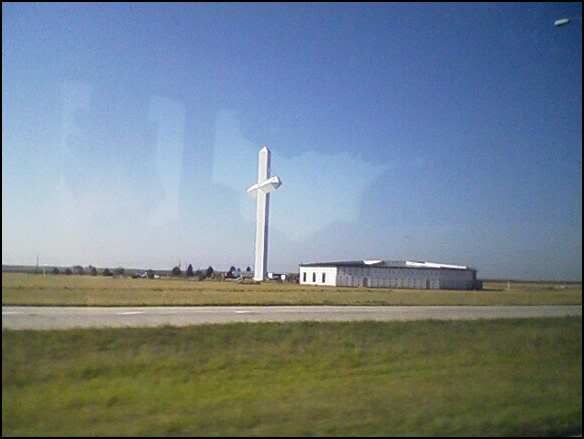 Part of me perceived this as a big "fuck you" to all non-Christians in the area.
And I thought North Dakota was religious.
After an hour or so of more driving, we arrived in Lubbock, Texas, home of Texas Tech. Upon getting off the bus on campus, I found that the climate was like Las Vegas, except nicer. The wind didn't feel like it was coming out of a blowdryer.
The members of the Texas Tech marching band were very nice to us. After our rehearsal in their practice "field" (really a parking lot with all of the markings of their football field), we got to socialize and mingle with them for a little while, after they got us coolers full of otter pops. What was funny was that I was talking to this one trombone player, and then three other guys showed up to talk to me, too. I felt kinda overwhelmed, actually.
Oh, they also brought us catering from Jason's Deli. They only have one of those in Las Vegas, and their food is goood. While we were eating our food, we got to see them practice. They are freaking HUGE. Bigger than UNLV, bigger than all of the high school marching bands in Las Vegas, and way bigger than 127-including-Dance-Team us. Their show is The Planets, by Holst, the show my high school was
originally
supposed to play last year until I came to pick up my instrument and found that we were doing the Russian Impressions show instead. Oh, and while I was eating, I nearly got attacked by a squirrel. The damn animal popped up out of nowhere and ran frantically like crazy around and through me and few other band members sitting down, eating lunch, until the damn thing found the nearest tree and shot up it.
After that, we got on the buses to get to the stadium, in full uniform, with a POLICE ESCORT. Cop cars around our buses, cops directing traffic, motorcycle cops following us. Which was good, because school spirit runs high here. As our buses have our school's name on it, we got quite the angry stares from the Red Raider fans. We on the Dance Team/Drumline bus replied by waving at every single group of people we passed, regardless of what team they were for.
Their stadium's architecture was reminiscent of Sam Boyd Stadium's in Las Vegas, except that it was a lot bigger - the final tally of people that attended the game was around 47k. Unfortunately, all but about 200 of them were Texas Tech fans. We had our little island of green among the huge sea of red. Insults were being hurled at our football players when they came on the field pre-game, but we got our revenge chant-wise later on, with stuff like "Aggies rejects" and some more...obscene stuff, mostly insinuated by the drumline, who were sitting right behind us clarinets. I was facepalming a good amount of the time.
Halftime was...strange. I actually don't remember very much of it, other than that I was pissed off that my clarinet didn't seem to be as loud as it usually was. The thing I remember most about halftime was getting to and from the sidelines. There were seats on the edge of the sidelines, albeit about six feet up. While getting onto the sidelines on the front of the field, there was this little kid in Texas Tech gear was holding his hand out through the railing so he could get a high-five from the band members (us, from UND) passing by. I think everyone was pretty focused on what they would do during halftime, because they kept passing him by without doing anything. Well, this kid looked like he was seven, with an almost ecstatic and hopeful look on his face and his mother encouraging him, so I raised my hand and gave him a high-five as I was passing by. While waiting for the second quarter to actually end, I could just imagine the kid gleefully telling his mom that he got a high-five from a marching band member. It made me really happy. Maybe he'll foster an interest in music later on.
Getting off the sidelines, the same thing happened, except it was with MANY kids this time around, all in Texas Tech gear. A good amount of the band members and I gave them high-fives (though it was a bit difficult, considering how short I am).
After halftime, the Texas Tech band was nice enough to send over coolers full of Powerade and water, and then, later, a basket with candy that we passed around. At the end of the game, they came over and thanked us for coming. Nice guys.
In the fourth quarter, since we were going to lose (final total was 38 to 13), the drum major took the drumline's suggestion of "leaving our mark" in the stadium by having us play the "beer song".
You thought I was joking, didn't you? WRONG!
The part not shown in the picture is the part where we sing "In Heaven there is no beer, that's why we drink it here, and when we're gone from here, our friends will be drinking all the beer!" Loudly.
Speaking of loudly, one of the senior band members was in one of the tunnels on the opposite end of the field, namely, the one closest to the Texas Tech band. When he came back, he said that when both of the bands were playing at the same time, he heard us (who are on the other side of the field from where he was) over the Texas Tech band. The same phenomenon happened when I was in high school - our smaller, AA band would often play noticeably louder than some of the AAA bands in the competitions.
A final note about the game. Playing at college games is different than playing at high school games. At a high school game, you'd play during one of the rather longer waits between plays, and never when the other band is playing. It's not like that here. We play after EVERY play, other band be damned. It's very fast-paced, but exhausting.
After the game, we got on the buses and drove for about an hour back to Plainview. Upon getting out of the bus at the hotel, I found a cute little toad. Of course, Jocelyn found out and then grabbed it for herself, while squealing.
And now I'm typing this. By the way, if you're wondering about the lack of pictures in this post, it's because my phone was spending most of the day in my pants pocket, sitting on the bus, since I was wearing marching pants most of the time.